bumGenius Diaper Sprayer
The bumGenius Diaper Sprayer by Rinseworks™ i is a fresh, new way to clean cloth diapers! Its high-pressure sprayer easily rinses clean the messiest diapers. No more dunking! The bumGenius diaper sprayer is perfect for rinsing potty chairs while the adjustable control setting is gentle enough for personal hygiene, making it a must-have for any family using reusable cloth diapers!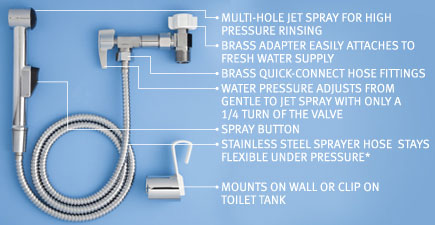 Potty Training Use
During potty training, the sprayer is perfect for rinsing potty chairs.
Personal Hygiene Use
The adjustable spray is gentle enough to be used for personal hygiene after childbirth.
Easy To Install
No plumber or tools needed. All parts are included along with simple install instructions. If you need help with installation, call the 800 number listed with the instructions to talk to an experienced customer service agent.
3 Year Limited Warranty
This diaper sprayer is guaranteed by Rinseworks to be free from defects and problems for 3 years from date of purchase.
Please don't return this product before contacting a product consultant.
If you need installation assistance, replacement parts, or have questions, please call our Product Consultant at: 1.800.536.0858
M-F 10am-6pm EST or email help@rinseworks.com.
Includes:
One package includes sprayer, fixtures, hose, mounting clip, and install instructions.
Made in the USA with domestic and foreign components. Fair wage and safe labor standards apply. *StayFlex™ Stainless Steel Spray Hose (small dia.10.5mm) stays totally flexible when pressurized and is patent pending. Double Back Flows Certified to ASME Standards.
Our layaway offers you the opportunity to get the products you need on a payment plan. Using cloth diapers saves money, but we understand that getting your initial cloth diaper stash can be hard when you are short on cash. Our cloth diaper layaway plan allows you to spread the cost out over 3 months.
Select the items you need, then use the voucher code "LAYAWAY" when you checkout. You'll only be charged 25% of the cost of your order. I will set your items aside until they are paid for.
You will then be responsible for paying 25% each month for the next 3 months. If you do not finish paying for your order within 90 days you can apply any amount you have paid as store credit or you will receive a refund of current paid amount less a 20% restocking fee.
You can make payments on your layaway items with PayPal by putting "Layaway" and your name in the subject of the payment. The email address for Paypal is payments@greendiaperstore. You can also pay with check or credit card. Please call us at 1-855-904-7336 for more information.
Certain items are dropshipped (cosleeper, etc.) from the manufacturer. These items are not actually ordered until the payment is made in full. In rare cases a manufacturer may change or discontinue a product during the payment period. If this happens and the product or a reasonable substitute (such as a different color) is not available then a refund will be issued.