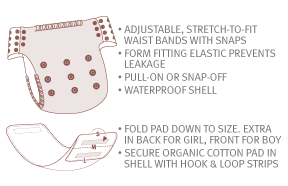 Flip Potty Trainer
Flip Potty Trainers are a unique pull-up, pull-down, snap-off, one-size potty training system made with replaceable one-size pads. The outer shell is made of PUL and has detachable tabs made of the same stretchy material we use for the tabs on all Flip and bumGenius products. The tabs attach with snaps. The replaceable one-size soakers are made of six layers of organic cotton jersey (the same fabric used to make Flip organic cotton inserts). The soakers attach to the shell using ultra-soft loop fabric.
Each limited edition Flip Potty Training Kit includes a one-size cover, your choice of color, and five one-size organic inserts.
Design by experienced potty training parents means usable, cost-effective products for you!
Flip Features:
• A waterproof shell, so no extra cover is needed.
• Wipe the inside of the cover out and use it over and over again!
• Form fitting elastic to prevent leaks.
• Stay put, feel wet pad for easier learning.
• Disposable inserts are also available for use while traveling.
• Patent pending 3x3 adjustable snap system to fit most 18months-4T (approximately20-50lbs)
•Colorful interchangeable tabs allow for almost 200 potential looks.
Absorbency?
The replaceable, removable Flip™ inner pad made with ultra-absorbent organic cotton allows wet accidents to be changed without a whole new trainer, this feature is unique to Flip Trainers and translates into significant savings.
Overnight
We recommend using a Flip disposable insert with the Flip organic cotton potty training pad for overnight. Disposable inserts sold separately.
Our layaway offers you the opportunity to get the products you need on a payment plan. Using cloth diapers saves money, but we understand that getting your initial cloth diaper stash can be hard when you are short on cash. Our cloth diaper layaway plan allows you to spread the cost out over 3 months.
Select the items you need, then use the voucher code "LAYAWAY" when you checkout. You'll only be charged 25% of the cost of your order. I will set your items aside until they are paid for.
You will then be responsible for paying 25% each month for the next 3 months. If you do not finish paying for your order within 90 days you can apply any amount you have paid as store credit or you will receive a refund of current paid amount less a 20% restocking fee.
You can make payments on your layaway items with PayPal by putting "Layaway" and your name in the subject of the payment. The email address for Paypal is payments@greendiaperstore. You can also pay with check or credit card. Please call us at 1-855-904-7336 for more information.
Certain items are dropshipped (cosleeper, etc.) from the manufacturer. These items are not actually ordered until the payment is made in full. In rare cases a manufacturer may change or discontinue a product during the payment period. If this happens and the product or a reasonable substitute (such as a different color) is not available then a refund will be issued.