Green Toys Stacking Cups
Green Toys™ Stacking Cups
Six graduated cups, dozens of possibilities for bath and play time. Scoop and pour water, build towers by turning upside down, or just sort sizes to nest. The My First Green Toys™ Stacking Cups are colorful and fun, and teach basic counting and math concepts. Each cup is numbered on the bottom from 1 to 6 and is volumetrically accurate. Fill cups 1 and 2, for example, and it will equal the volume of cup 3. Made in the USA from 100% recycled plastic milk containers that save energy and reduce greenhouse gas emissions. Perfect for home, classroom, outdoors, or the tub. No BPA, PVC, phthalates, or external coatings. Meets FDA food contact standards. Dishwasher safe too. Color combinations may vary.
Diameter: Cup range from 1-1/2" to 3-1/2" diameter
Height: Stacks to 4-¾" high
For ages 6 months and up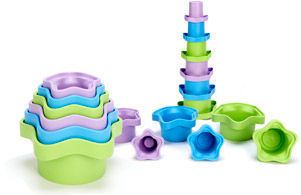 Our layaway offers you the opportunity to get the products you need on a payment plan. Using cloth diapers saves money, but we understand that getting your initial cloth diaper stash can be hard when you are short on cash. Our cloth diaper layaway plan allows you to spread the cost out over 3 months.
Select the items you need, then use the voucher code "LAYAWAY" when you checkout. You'll only be charged 25% of the cost of your order. I will set your items aside until they are paid for.
You will then be responsible for paying 25% each month for the next 3 months. If more than 90 days are needed please contact us at lisa@littlefornow.com to make arrangements.
You can make payments on your layaway items with PayPal by putting "Layaway" and your name in the subject of the payment. Payments can be made using Paypal. The email address for Paypal is sales@ecofamilyinc.com. You can also pay with check or credit card. Please call us at 1-855-904-7336 for more information.
If you need to cancel your layaway order there will be a re-stocking fee equal to 25% of the total cost of the order. Any additional money paid over the 25% will be refunded. The re-stocking fee is to cover the time we held the items for you and they were not available to be sold to someone else, credit card/PayPal fees and staff time to enter and process the order and cancellation.
Certain items are drop shipped (cosleeper, etc.) from the manufacturer. These items are not actually ordered until the payment is made in full. In rare cases a manufacturer may change or discontinue a product during the payment period. If this happens and the product or a reasonable substitute (such as a different color) is not available then a refund will be issued.
Please sign in so that we can notify you about a reply