Better Fit Unbleached Prefolds
OsoCozy® "Better Fit" Unbleached Prefold Diapers
Our new "Better Fit" prefolds are sized to fit in the diaper cover without folding length wise in the diaper cover as required for standard prefolds. This less bulky and easier to use prefold style is growing in popularity. The "Better Fit" sizing is also designed to be used without Snappis or diaper pins. It is specifically made to be used with modern diaper covers. All OsoCozy® prefolds including these new "Better Fit" prefolds are Diaper Service Quality (DSQ). They are sewn of 100% Indian cotton gauze weaved material. This material quilts up nice and thick with the first wash and our diapers are soft, very absorbant and lint free.
Size
(Unbleached)
Size (in)
Un-washed
Baby Wt.
(lbs.)
Stitch Color
Infant 4x8x4
12.5 x 13.5
6-16 lbs
Purple
Premium 4x8x4
14.5 x 16
14-30 lbs
Red
Toddler 4x8x4
15.5 x 18.5
25-45 lbs
Brown
Traditional versus Better Fit Traditional Fit prefold cloth diapers can be secured to baby with diaper pins, Snappi Fasteners or placed in diaper cover and trifolded (sides folded over the middle) with the extra length then folded over in front or back for additional absorbency. See the first 2 pictures below. Many additional ways of folding these diapers can be found such as the angel wing fold, the bikini twist and others. These versitile work horses have been the standard since prefold diapers replace flat diapers in the late 1960's.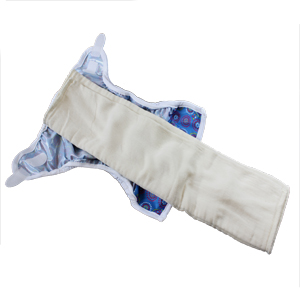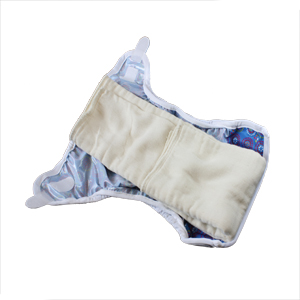 Better Fit prefold diapers are sized to fit diaper covers when a simple trifold is used. See first picture below. This results in a less bulky and more comfortable fit. They are 2.5 inches shorter in the infant size and 5-6 inches shorter than the regular or premium sized traditional prefolds. The premium sized Better Fit has also been used as a medium size between the traditional infant and regular/premium sizes. If used as a medium traditional prefold the better fit premium will not fit 15-30 lbs but rather will work for many babies from about 13-20 lbs.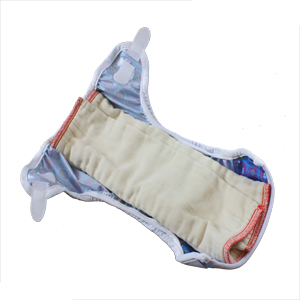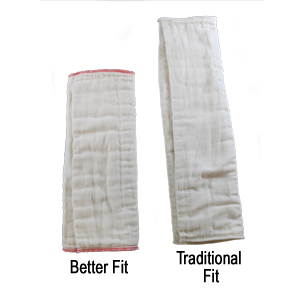 Our layaway offers you the opportunity to get the products you need on a payment plan. Using cloth diapers saves money, but we understand that getting your initial cloth diaper stash can be hard when you are short on cash. Our cloth diaper layaway plan allows you to spread the cost out over 3 months.
Select the items you need, then use the voucher code "LAYAWAY" when you checkout. You'll only be charged 25% of the cost of your order. I will set your items aside until they are paid for.
You will then be responsible for paying 25% each month for the next 3 months. If more than 90 days are needed please contact us at lisa@littlefornow.com to make arrangements.
You can make payments on your layaway items with PayPal by putting "Layaway" and your name in the subject of the payment. Payments can be made using Paypal. The email address for Paypal is sales@ecofamilyinc.com. You can also pay with check or credit card. Please call us at 1-855-904-7336 for more information.
If you need to cancel your layaway order there will be a re-stocking fee equal to 25% of the total cost of the order. Any additional money paid over the 25% will be refunded. The re-stocking fee is to cover the time we held the items for you and they were not available to be sold to someone else, credit card/PayPal fees and staff time to enter and process the order and cancellation.
Certain items are drop shipped (cosleeper, etc.) from the manufacturer. These items are not actually ordered until the payment is made in full. In rare cases a manufacturer may change or discontinue a product during the payment period. If this happens and the product or a reasonable substitute (such as a different color) is not available then a refund will be issued.
Please sign in so that we can notify you about a reply