Flip One-Size Diaper Cover
The Flip Diaper Cover is a popular cover that offers flexibility and cuteness!
The Flip One-Size Cloth Diaper Covers are available without inserts in response to the hundreds of requests the manufacturer had from customers just like you.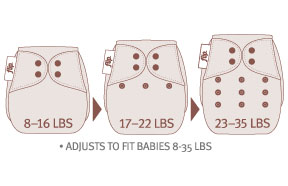 Flip One Size Cloth Diaper Covers are simple to use and offer a cost-effective cloth-diapering system that is as easy as can be. Just choose the type of insert you prefer, place an insert in the cover, and snap the cover on your baby. Flip One Size Cloth Diaper Covers can be used with the Flip Organic Cotton inserts, Flip Stay Dry inserts, Flip Disposable inserts or choose prefolds or flat diapers.
What does one size mean? Flip One Size Cloth Diaper Covers fit most babies from 8-35 pounds. From newborn to toddler in one cover? Just adjust the rise snaps to the right length for your baby. The stretchy, soft snap tabs give a comfy fit at the waist and are adjustable for babies of any size and shape.
Gentle leg elastic helps hold in messes so well that many parents use Flip diaper covers over disposable diapers to help prevent blow-outs. The Flip covers are so trim and easy to use, they have developed quite a following with cloth-diapering parents.
Flip One Size diaper covers are easy to use. The soft cloth waist and legs keep baby comfy. The waterproof inner layer is smooth and can be wiped clean if needed between changes. When the insert is wet, just shake it into the diaper pail. Reuse the cover a few times during the day, then wash it when soiled or wet.
How many Flip One Size Cloth Diaper Covers do you need to cloth diaper full-time? We recommend using 2-3 covers per day, alternating to let them air out between uses if desired. If you wash diapers every 2 days, you'll want 6-8 Flip covers to make sure you have enough.
What about overnights? You can use an extra insert or develop a combination of insert that works for your baby's absorbency needs for overnights.
The Flip One Size Cloth Diaper Cover system is so flexible, you can truly find the best option for your baby. And their trim fit makes sure baby clothes fit well. This system is loved by parents for how easy it is to pack several diaper changes into the diaper bag as well. A few covers and a handful of inserts doesn't take up a lot of room.
Our layaway offers you the opportunity to get the products you need on a payment plan. Using cloth diapers saves money, but we understand that getting your initial cloth diaper stash can be hard when you are short on cash. Our cloth diaper layaway plan allows you to spread the cost out over 3 months.
Select the items you need, then use the voucher code "LAYAWAY" when you checkout. You'll only be charged 25% of the cost of your order. I will set your items aside until they are paid for.
You will then be responsible for paying 25% each month for the next 3 months. If more than 90 days are needed please contact us at lisa@littlefornow.com to make arrangements.
You can make payments on your layaway items with PayPal by putting "Layaway" and your name in the subject of the payment. Payments can be made using Paypal. The email address for Paypal is sales@ecofamilyinc.com. You can also pay with check or credit card. Please call us at 1-855-904-7336 for more information.
If you need to cancel your layaway order there will be a re-stocking fee equal to 25% of the total cost of the order. Any additional money paid over the 25% will be refunded. The re-stocking fee is to cover the time we held the items for you and they were not available to be sold to someone else, credit card/PayPal fees and staff time to enter and process the order and cancellation.
Certain items are drop shipped (cosleeper, etc.) from the manufacturer. These items are not actually ordered until the payment is made in full. In rare cases a manufacturer may change or discontinue a product during the payment period. If this happens and the product or a reasonable substitute (such as a different color) is not available then a refund will be issued.
Please sign in so that we can notify you about a reply